July 2, 2022

---
---

Sound Blaster Audigy MP3+ Preview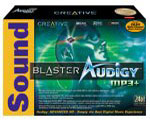 Features
24-bit/100dB SNR- Listen to MP3s, WMAs, CDs, and any stereo music with high definition audio clarity surpassing high-end home theater receivers.
Dolby Digital Decoding- Enjoy true 5.1 multi-channel playback in music with on-board Dolby Digital decoding capabilities. No need for a separate decoder.
Creative PlayCenter 3- Your personal digital music center on the PC! Rip MP3 and WMA files with the included 320 Kbps encoder for up to 9X encoding acceleration. Burn your own audio CDs from digital music libraries, create playlists, as well as organize and customize your entire digital audio collection. Also experience 5.1 Dolby Digital (AC-3) music with the included samples.
Audio Clean-up- Click Removal removes "pops" when listening to digital audio content or recordings.Noise Reduction reduces "hiss" and scratches from old tapes or LP recordings for enhanced audio playback.
Time Scaling- Speed up or slow down digital music playback without changing the pitch or audio quality.
EAX ADVANCED HD Audio Effects- Select from a wide range of sophisticated audio presets as well as Special Effects for an enriched music experience.
DREAM- Create enhanced, "club-like" surround sound from any stereo source by redirecting the path of a specific frequency range.
Music Sharing- Easily share your music collection with those using SB1394 networking-like connectivity to other PCs.
Specifications
RAM size: Based on System RAM, up to 1GB, Sample Sets: 4 MB, Synthesizer Effects: Reverb, Chorus, Flanger, Pitch Shifter, Distortion, etc, MIDI Channels 48, Effects Engine: 32-bit,Duplex Type: Full.
Max. Recording Depth: 16-bit, Max. Recording Rate: 48kHz, Max. Playback Depth: 24-bit, Max. Playback Rate: 96kHz, Signal-to-Noise Ratio: 100dB.
Soundfont Support including Soundfont 2.1, General MIDI, EAX Support, Microsoft DirectSound, Microsoft DirectSound 3D & Derivatives, AC97, EAX Advanced HD, ASIO Support.
Dolby Digital 5.1 decoding, 4 Speaker Support, Creative MultiSpeaker Surround, Creative Environments, 5.1 Speaker Support, Headphone Support, Dolby Digital 5.1 Pass-through with Dolby Digital-capable softDVD player, DTS pass-through with DTS-capable softDVD player.
Front/Rear Speaker Level Adjustment, Center Speaker Level Adjustment, Subwoofer Level Adjustment, Crossover Frequency Adjustment 10 - 200Hz.
PCI Card Connections
Microphone In, Line In
Line Out (Front)/Speaker Out
Line Out (Rear), MIDI/Joystick Port as a separate attachment
MPC3 CD Audio In
Auxiliary In
S/PDIF In
Telephone Answering Device (TAD) In
24-bit DAC (Digital to Analog Convertor)
24-bit ADC (Analog to Digital Convertor)
Analog/Digital Out (Analog: Center & Subwoofer / Digital : 6-channel S/PDIF)
Digital DIN Support
SB1394 Connector
CD Digital In
Software
Creative PlayCenter 3- Creative PlayCenter is your personal digital music center on the PC. Easily create, organize and listen to quality digital music enhanced with EAX ADVANCED HD effects. When connected to a digital audio player, PlayCenter makes it fast and easy to transfer playlists and digital music content.
Creative Surround Mixer- Integrate all of your audio inputs to allow you to create the perfect listening environment. With the Surround Mixer, you can control your speaker configuration, add super-environment presets, and position audio sources. You can even select and display a spectrum analyzer.
Goldmine Demo- Take an interactive tour that shows off the power and realism of EAX for games, including many of the new effects available with EAX ADVANCED HD.
Oozic Player- Pump up the volume and dance to the rhythm! Oozic* creates a whole new dimension for Internet music - a world where you will be dazzled by spectacular studio-quality cinematography. MP3 songs can be accompanied by an interactive, customized, and spectacular music-synchronized "video" for a completely immersive 3D visual experience. * (formerly known as LAVA!).
iM Networks Inc.'s iM Tuner- Install, turn on, tune in. Listen to the 'Best of the Planet ' Internet Radio on your PC. Select from 25 different stations - with more than 30 stations per genre - to suit your listening taste.
Beatnik's Mixman Studio Remixer- Create and remix club-like music with the patented automatic beat matching and real-time control of pitch, panning, volume and tempo.
MixMeister Technologies' MixMeister- This revolutionary software creates a killer mix using your MP3 music files. With just a few clicks, you can produce the ultimate DJ mix for all occasions. It also delivers powerful intelligence and control, so you can adjust your mix to perfection.
Unibrain S.A.'s FireNet- FireNet gives you easy PC-to-PC networking capabilities with blazing transfer speeds of up to 400Mbps surpassing ordinary Ethernet LAN solutions.
System Requirements
Genuine Intel Pentium 266MHz, AMD K6 300MHz or faster processor.
Intel, AMD or 100% compatible motherboard chipset.
64MB system RAM (128MB Highly Recommended).
600 MB of free hard disk space.
Windows 98, 98SE, Windows NT 4.0, Windows 2000 or Windows Millennium Edition (Windows XP drivers to be downloaded from www.soundblaster.com).
Available half-length PCI 2.1 compliant slot for Sound Blaster Audigy card.
Available adjacent slot for Audigy extension card.
Headphones or amplified speakers (available separately).
CD-ROM drive required for software installation.
Available 5 1/4" PC drive bay (for Sound Blaster Audigy drive).
SB1394: Works only on Windows 98 SE, Windows 2000 or Windows Millennium Edition and requires Genuine Intel Pentium II 350 MHz / MMX or AMD 450 MHz / 3Dnow! for SB1394 applications or games.
DV Editing: 128MB recommended for Digital Video (DV) capture and editing. Ultra DMA hard disk with 1GB workspace (ATA-100, 7,200rpm with 6GB recommended.
Games: 128MB system memory recommended, a 3D accelerator with at least 8MB of texture RAM, available 300-500MB disk space. Games may not work optimally under Windows 2000.
DVD: At least a 2nd generation DVD-ROM drive with these recommended soft-DVD players: Intervideo's WinDVD 2000 or CyberLink's PowerDVD 3.0 and above.
Internet Radio: Requires at least a 56Kbps modem and an active Internet connection before running the application.
Links
Where to Buy
Buy from Amazon
Information
Sound Blaster Audigy MP3+ Product Page
Related Articles
Sound Blaster Audigy Platinum eX Preview
Sound Blaster Audigy Platinum Preview
Sound Blaster Audigy X-Gamer Preview