July 2, 2022

---
---

ATI Radeon 7500 Preview
The ATI Radeon 7500 offers consumers a mainstream solution with a set of standard features typically associated with premium-level graphics boards. Available in September 2001 with an MSRP of just (US) $199, the RADEON 7500 features a level of performance not seen before at this price point. It incorporates a core clock speed of 270MHz and a memory clock speed of 230MHz, 64MB DDR and flexible display support including VGA and digital flat panel (DVI) monitors as well as TV out. It delivers up to a 60 percent improvement in performance compared to the previous generation of RADEON high-performance processors.
Specifications
64MB DDR Memory.
Output 15-pin VGA connector, S-Video or composite connector, DVI-I (flat panel display) connector.
Supports DirectX 8.0 and OpenGL.
Supports 3D resolutions (32-bit color) up to 2048x1536.
AGP universal bus (for AGP 2X/4X systems).
Quality product from the world's largest manufacturer of graphics boards means reduced cost of ownership - less downtime, low power consumption, full technical support, and 3-year warranty.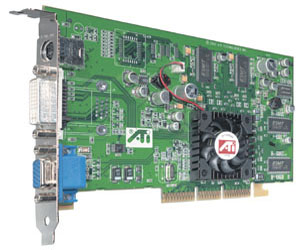 Features
HydraVision affords the RADEON 7500 the most advanced multi-monitor management software in the industry. HydraVision allows users to define up to nine multi-monitor configurations. Work can be spread across the entire workspace or applications can be configured to one monitor or the other. Favorite features can be assigned hot keys for instant access.
CHARISMA ENGINE combines one of the industry's fastest geometry engines with revolutionary techniques for bringing 3D characters to life. The geometry engine supports full transformation, clipping and lighting at 40 million triangles per second processing capability. CHARISMA ENGINE supports cutting-edge character animation features such as advanced vertex skinning and key frame interpolation.
PIXEL TAPESTRY combines one of the industry's fastest rendering engines with an unprecedented set of 3D special effects. The chip's ability to process up to 3 textures concurrently means unsurpassed performance in accelerating the coming wave of multi-textured game content. Because of its rendering capability, RADEON 7500 enables full performance in 32-bit color, making 16-bit color obsolete.
VIDEO IMMERSION advances ATI's historic leadership in digital video with such features as on-chip Motion Compensation, iDCT adaptive de-interlacing. The RADEON 7500 incorporates advanced video technology inherited from ATI's video-oriented set-top box and consumer electronics products.
Integrated Transformation, Clipping and Lighting, Twin Cache Architecture, SuperScalar Rendering, Single-Pass Multi-Texturing, True Color Rendering, Triangle Setup Engine, Texture Cache, Bilinear/Trilinear Filtering, Line & Edge Anti-Aliasing, Full-Screen Anti-Aliasing, Texture Compositing, Texture Decompression, Specular Highlights, Perspectively Correct Texture, Mapping, Mip-Mapping, Z-Buffering and Double-Buffering, Emboss, Dot Product 3 and Environment bump mapping, Spherical, Dual-Paraboloid and Cubic environment mapping, Fog effects, texture lighting, video textures, reflections, shadows, spotlights, LOD biasing and texture morphing.
Resolutions
2D display modes: 640x480 @200, 800x600 @200, 1024x768 @200, 1152x864 @150, 1280x1024 @130, 1600x1200 @120, 1920x1080 @90, 1920x1200 @75, 1920x1440 @75, 2048x1536 @75.
Maximum 3D resolutions: 65K colors 2048x1536, 16.7M colors 2048x1536.
DVD Playback
ATI's VIDEO IMMERSION engine allows for adaptive de-interlacing for best quality motion video and text.
Process full-frame rate, full-screen DVD or MPEG-2 video.
Hardware DVD saves the expense of buying a separate MPEG-2/DVD decoder card: motion compensation and IDCT allow for DVD decoding with minimum CPU usage.
HDTV ready.
System Requirements
Pentium 4/Celeron/III/II, AMD K6/Athlon or compatible with AGP 2X or AGP 2X/4X universal slot.
Installation software requires CD-ROM drive.
DVD playback requires DVD drive on PCs with an Intel Pentium II processor (or equivalent) and 32MB of system memory.
Windows 98 SE, Windows Me, Windows 2000, or Windows XP.
Links
Where to Buy
Information
ATI Radeon 7500 Product Page
Related Articles
ATI Radeon 8500 Preview
ATI All-In-Wonder Radeon 8500DV Preview