Creative Labs 20 GB Nomad Jukebox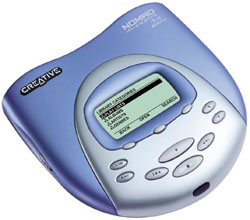 Description
The Creative 20 GB NOMAD Jukebox lets you carry up to 340 hours of CD-quality audio with you. Using equipment roughly the size of a standard portable CD player, you can back up your entire CD collection to an MP3 or WMA format and never worry about hefting a bulky CD carrying case again.
Designed to give you the most sound options for your money, the NOMAD Jukebox comes with built-in EAX audio technology, which gives you the capabilities of adjustable playback speed and FourPointSurround speaker support. You can listen to your music through headphones, hook up to a home stereo, or connect the NOMAD directly to a FourPointSurround for 3-D positional audio.
An advanced onboard Digital Signal Processor provides headphone spatialization effects and environmental effects, and you can adjust bass, treble, and midfrequency ranges on the fly.
A line-in jack allows you to record from external devices at up to 48 KHz. Hook up to a microphone and record lectures and seminars or your latest karaoke session. Your recordings can be easily ported back to the PC with the bundled Creative PlayCenter 2 software.
A large backlit LCD display makes it easy to navigate through your music. Continue to use your NOMAD into the future with free firmware upgrades to support new audio codes from Creative Lab's NOMAD Web site.
Features:
20GB storage space holds over 340 hours of CD-quality audio
14-ounce lightweight device
Offers MAC OS support
EAX-enabled (more about EAX here)
Parametric EQ adds personalized controls and optimal audio settings
Headphone Spatialization for enhanced listening
Adjustable playback speed - ideal for digital audio books, language learning, meeting minutes reviewing. Also useful for slowing down and learning new MP3 songs
Dual Stereo Line Out for front and rear speakers
FourPointSurround speaker support for an enhanced music listening experience at home or at work
Reprogrammable firmware supports additional format playback and software extensions
Line-In for direct stereo audio recording in WAV format from external devices
USB interface offers fast digital transfer rates and quick connectivity and setup
Downloadable OS for upgrades and extended features such as new DSP algorithms, security features, auto play lists generators
SDMI ready for access to future label released SDMI compliant content
Large memory buffer for up to 5 minutes of shock protection
DC In for separate power supply and battery recharging
Package Contents:
Creative NOMAD Jukebox player
1 set Stereo Headphones
1 4-pack AA NiMH Rechargeable batteries and 1 spare 4-pack AA NiMH batteries
1 Installation CD with soft copy manuals in English, Spanish, and Portuguese
1 USB connector cable
1 Universal AC power supply
1 Carrying pouch
1 Quick Reference Guide